Welcome to the Tennessee state website for Dizzy Dean Baseball & Softball. This site was established for the communities and young people who play Dizzy Dean Baseball and Dizzy Dean Softball in the state of Tennessee. If you would like to become a Dizzy Dean sponsored recreational facility, please contact any National Director.
2018
7 Year Old World Series released for bid by any
sanctioned Dizzy Dean Park Read More
THE FUTURE OF BATS
Changes in bat standards effective 2018
read more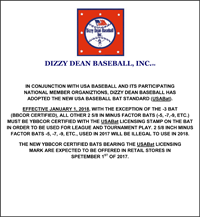 Rule 3:07 Batting all available players is allowed in COACH PITCH AGE GROUPS, minor 9/10 and freshman 11/12. This is only an option. Playing 10 in farm league and 9 in minor and freshman is allowed.
1. Opting to bat all available players must be declared before the game starts.
2. If this option is used, you must finish with the same number of batters you started with.
3. If this option is used and a player cannot bat in their allotted slot, an out will be called every time that player is scheduled to bat (remainder of the game).
4. Minimum number of players (10) in farm league and 9 in minor and freshman must be maintained at all times. (PENALTY: Forfeit).
5. If batting all available players, "Free Defensive Substitution" is allowed. Batting order must be maintained at all times.
6. No free substitution for pitcher. That is still governed by pitching rules.
In all cases including changing their legal residence, the National State Executive Board of the state in which you reside, must approve this. Refer to Common Rule 7:04.
15.03
The National State Executive Board of each state will determine the guidelines/eligibility for all player transfers within their state. All transfer requests must be turned in to the age group director. Before first league game, all transfers must be approved by the National State Executive Board of the state which they reside. Any boy/girl regardless of number of years associated with Dizzy Dean, playing at Dizzy Dean sanctioned parks, regardless of age, or if he/she is an All Star or not, regardless of extenuating circumstances, will be eligible to transfer to another Dizzy Dean sanctioned park, with the approval of both home park President of player and President of park transferring to. All requests must be turned in to age State Director who will meet with National Executive Board. Parks will be notified of transfer request decision. All transfer request forms must be completed and turned in with the league sanction paperwork. ALL REQUEST FOR TRANSFERS MUST BE IN THE HANDS OF THE STATE DIRECTOR BEFORE FIRST GAME OF THE SEASON FOR PLAYER TO BE CONSIDERED FOR TRANSFER.

Official Baseballs and Softballs
for Tennessee Dizzy Dean